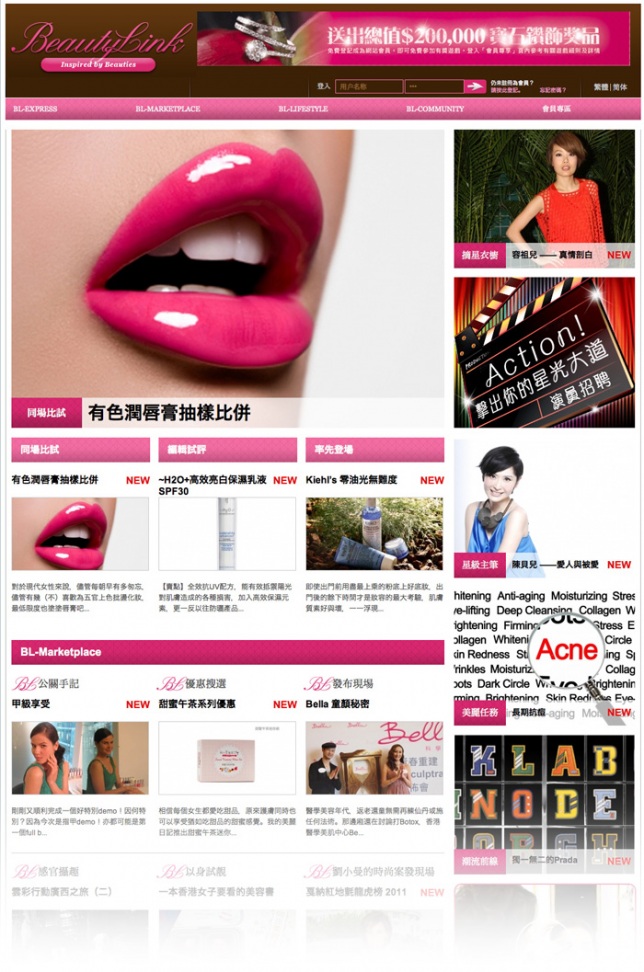 Beautylink
Beautylink is a women's lifestyle, fashion and skincare/cosmetics web magazine targeting women in Hong Kong and China. Updated daily with news, reviews, insight, articles, and tips from contributing experts and guest bloggers, Beautylink garnered over 1 million page-views in the first 6 months of operation — not bad for a Hong Kong website.
This is the largest site I've designed and built to date, containing over 20 different sections and channels, a multi-level membership database (with Facebook integration), dual languages (both traditional and simplified Chinese) and a complete mini-blog system, where signed-in members can start and contribute their own blog postings to the site.
I also designed the logo and brand identity, created multiple page layout grids, streamlined the user interface and navigation, and built the entire site on the ExpressionEngine publishing platform. This may be the largest Chinese language ExpressionEngine site to date!
Update: Unfortunately, like many web-based startups, Beautylink wasn't able to build a sufficiently active user base that, in turn, could sustain sufficient ad and sponsorship revenue. The site was shut down in mid-2012.
Looking for a new website or interface solution? Contact me now for a full quotation.