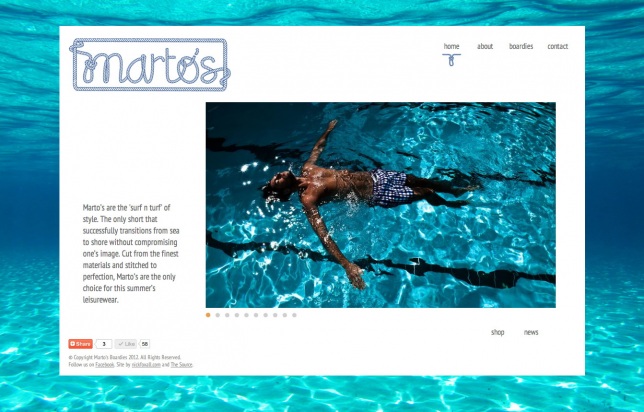 Martos Boardies
Marto's Boardies are a new line of Australian men's board shorts and (soon) beachwear from fashion designer, Harriet Martin. Their board shorts are the 'surf n turf' of style. The only short that successfully transitions from sea to shore without compromising one's image!
Working in collaboration with Kerensa Neale at The Source, we designed a fresh, crisp, clean, easy-to-use website for the brand.
The site was then developed on the ExpressionEngine web publishing platform, along with the excellent BrilliantRetail e-commerce engine (a first for me). This proved to be an ideal e-commerce solution, allowing Marto's to start selling online immediately, with one simple 9-product range, but with extensive options and tools built-in for future expansion into multiple product ranges, member discounts, sale periods, coupon codes, automatic shipping, and many other options.
If you're looking for cool summer beachwear, look no further! Click below…
Looking for a new website or interface solution? Contact me now for a full quotation.